It's common knowledge that microwaves and air fryers are both great time savers in the kitchen. But, which one should you choose? Well, the real question is, should you choose one or the other?
In this blog post, we'll take a look at the pros and cons of both options and help you decide which one is best for your kitchen. Keep reading to learn more!
---
What is a microwave oven and how does it work?
A microwave oven uses electromagnetic waves to heat food. The waves are produced by a magnetron that generates microwave energy when current passes through it. The waves are reflected off a metallic reflector, and then the food heats when it becomes part of the electromagnetic field.
---
Can an air fryer really replace a microwave oven?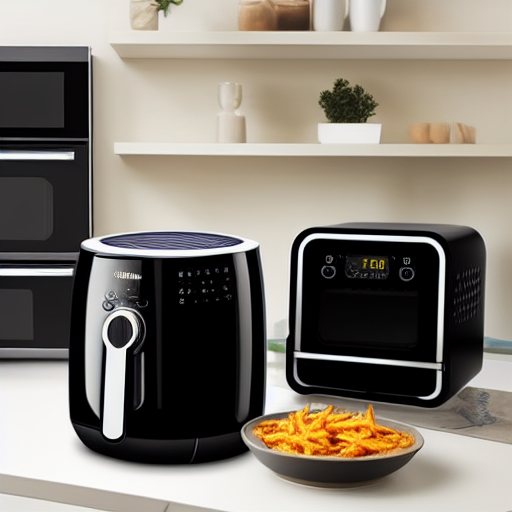 In terms of heating up food, an air fryer cannot replace a microwave oven because it doesn't use microwaves to heat up food. The cooking technology of air fryers works using accelerated hot air circulation.
The main component of an air fryer is a fan that circulates hot air around the food being cooked. The hot air can reach a temperature of 200 – 250 degrees Celsius, which is hot enough to fry, bake, roast, grill, or toast your food.
When you're deciding whether or not to purchase an air fryer, it's important to consider whether or not it can replace your microwave oven. air fryers are excellent for cooking food quickly and evenly, but they're not as versatile as microwaves when it comes to specific foods.
Air fryers can't cook food in the oven-style mode, they can only be used for air cooking. This means that they don't work well for cooking food in a dish like a casserole or pie crust where the ingredients need to be covered in order to prevent them from sticking to the bottom or sides of the dish.
Air fryers are also limited in the types of foods they can cook. Microwaves can cook a wide variety of foods, including things like potatoes, chicken breasts, and even rice. air fryers are not as good at cooking these types of foods because they don't heat the food evenly and can result in unevenly cooked food.
Overall, air fryers are an excellent choice for quick and easy cooking, but they're not as versatile as microwaves when it comes to specific foods. If you're looking to replace your microwave oven, an air fryer is a great option, but make sure you also have a variety of food options available to cook with so you don't get bored!
---
An air fryer uses 75% less oil than a conventional oven or deep fryer.
In order to cook food in an air fryer, the food needs to be coated with a fry-like batter or breading. This is not the same as traditional frying in oil, though; the food is not submerged in oil, which greatly reduces the amount of oil used.
---
An air fryer uses less power than a conventional oven.
An air fryer uses less power than a conventional oven. This is mainly because air fryers cook food using hot air circulated by a fan. This hot air circulates around the food causing all food to cook evenly and thoroughly.
Most conventional ovens cook food by using heat from below and hot air from above. The hot air doesn't circulate around the food therefore it leaves food prone to uneven cooking. Food may also get burnt around the edges and leave food not cooked properly.
An air fryer uses up to 80% less power than a conventional oven and uses up to 75% less energy than a conventional electric oven. An air fryer uses less power than a conventional oven which is not only great for the environment but also great for your hip pocket!
An air fryer uses much less power than a regular oven. This is mainly due to the way the food cooks.
---
Conclusion
Frying in a skillet is a time-intensive process. However, an air fryer uses less oil than a traditional fryer. saving you time and money. Air fryers also cook food evenly, which makes them great for certain types of food, like potatoes, French fries, and fish.
However, if you're not a fan of soggy fries, an air fryer may not be for you. Microwaves can also cook foods evenly and quickly without oil. So, which is better? Well, the answer depends on more than just cost and time.